The show must go on in event space KL! Do not let the pandemic hinder your business and make you go silent, especially when the majority of businesses and event spaces are going back to "normal" and resuming its business operations. The Event Industry is just about to be reborn; the pandemic has changed the game for event planners – So do not be left behind! You must adapt to the new norms of the event-hosting world. So, to stay at the top – here are 4 tips for you to consider when planning your event in 2021.
Event Space KL #1 – Stay Flexible
Despite businesses resuming their normal operations, the pandemic has taught us that it takes one announcement, one hour to change or stop everything you have planned. Thus, over the past year, various events have been canceled or on hold due to unpredictable characteristics of the pandemic. Therefore, it is crucial to stay flexible in case we head back into another state of lockdown to save time and money when planning the event. So, how does one be flexible?
Be prepared and willing to transition the in-person event to a virtual event (or hybrid) to ensure that the event would still happen and will be successful
Create a better venue contract, negotiate terms and understand the cancellation policies to make sure there are any unforeseen scenarios, it will not cost you a deadly amount.
Negotiate to minimize the deposit amount with any contracts to minimize the risk of money loss.
Event Space KL #2 – Value Safety Measures.
COVID-19 should not be taken lightly and therefore it is the duty of the event planner to take safety into consideration when hosting an in-person event. Thus, there should be a compulsory implementation of these rules and regulations:
Ensuring that everyone is wearing a mask (provide masks too)
Place adequate sanitizing stations
Place markers to remind people about social distancing
This is to ensure there are no health risks and reassure the stakeholders that your priority is to protect the guests, staffs and any extras who are present at the event. Therefore, you must train your team to ensure they are prepared to host coronavirus-safe events.
Event Space KL #3 – Virtual Events as a Short-Term Solution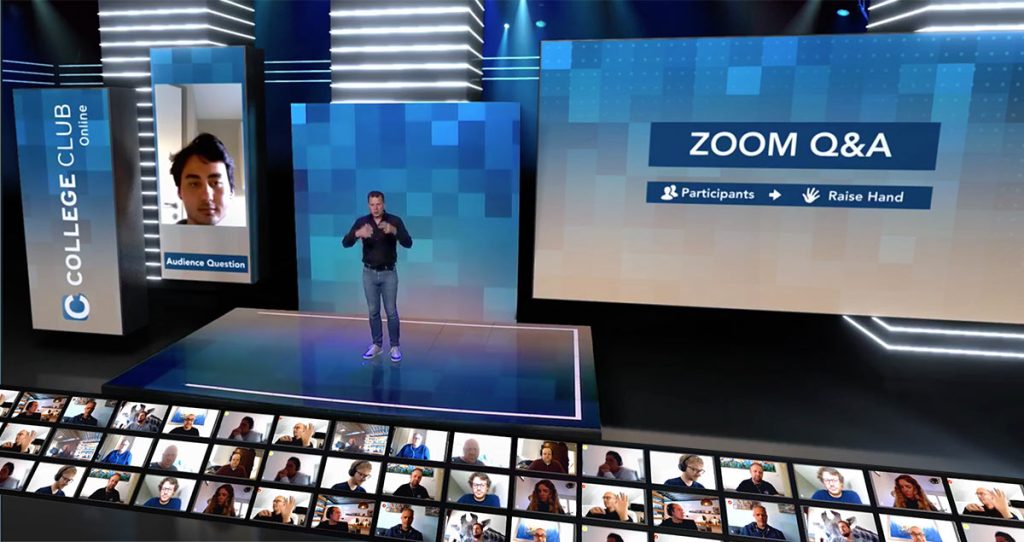 As much as we want to be able to host your in-person events, it may be a difficult task to do so because the event lead times are very high and thus at a high risk for any unexpected changes due to the pandemic. However, do not let that stop you! While you are unable to host events, train your team to adapt their skills to the new coronavirus-influenced event industry. Thus, here are some tips to actively engage with your followers to maintain their trust in the brand and deliver ROIs:
Create a platform that allow like-minded people, or people who are experiencing similar situations to interact.
Host virtual events that enable break-out rooms, live polling and other features to engage with clients and ensure their presence when in-person events are allowed again
Event Space KL #4 – Make Preparations for Hybrid Events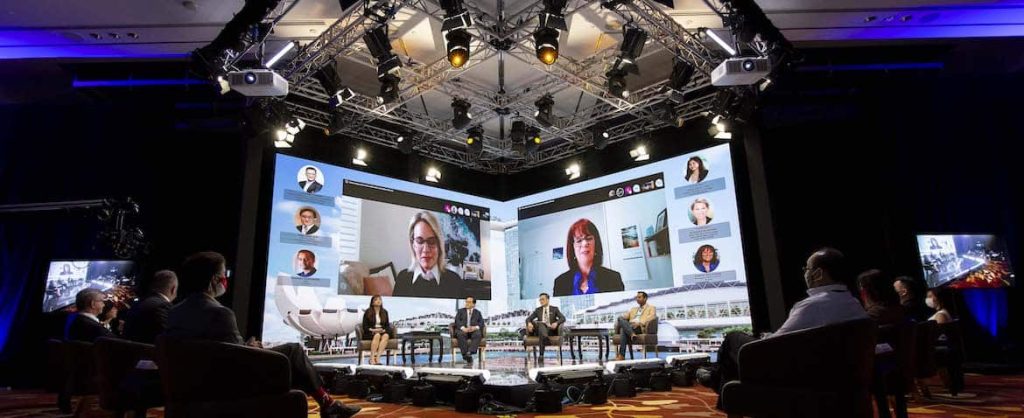 The return of live events does not necessarily mean that everyone will be willing to go out. Thus, event planners must understand that there will be some people that are still concerned and uncomfortable about live events and so they must extend the flexibility to those attendees. You must wonder why hybrid events?
Wider reach and exposure (domestically and internationally)
Eco-friendly (lower carbon footprint)
Increased sponsors (attract international sponsors too)
To become more successful in these hard times due to the COVID-19 pandemic, hybrid events are a solution that all event planners must consider.
Become a host that can provide all sorts of events through various avenues for virtual, hybrid and live events. Use these tips to minimize your financial loss, increase attendee engagement and remain successful even through the hard times of the event space KL industry in 2021.
EVENT  SPACE KL – Virtual Events (Webinars) 
During this pandemic, we understand events must still go on, with a compulsory virtual element. Together with our professional webinar partners, we can help you host a professional webinar that is tailored and customizable to your brand and purpose. From recording online courses, to large scale product launches and conferences – our equipment and infrastructure are designed to help you create a professional and customized virtual event for you and your audience.
PLAN INCLUSIONS:
Unlimited high speed internet connection

Webinar accessories (Clip-on, Green Screen, etc.)
42-inch TV for presenter view
Licensed webinar software – CISCO
On-site professional webinar personnel
Audio mixer
HD video camera
Professional webcam
HD video conferencing system
Host your next virtual event at Colony by reaching out to us via our email at ask@colony.work or at +60 18-213 8086 to learn more about our Event Space KL.
RELATED EVENT SPACE KL ARTICLES
 Wedding Venue KL: Are Micro-Weddings Still a Thing in 2021?