Serviced Office KL: The Making of Colony – How Can Businesses Successfully Adapt COVID-19
Like other businesses, many of us remain hopeful when the MCO was lifted and many small-medium businesses like ourselves we're able to resume back to operations after being in complete lockdown for 3 months. 
Just as things were starting to pick up and move well along well during the RMCO phase, we were hopeful that we would not end the year as we expected to but at least on a promising note for 2021. All of these were put to a halt when the CMCO announcement was made.
Although we remain operational, we have started seeing a familiar pattern in our business where most of our wedding and event bookings were called to be postponed or cancelled. We understood where our guests came from and empathize with why they had to reschedule as the virus is now spreading way faster than we could ever anticipate and the best we could do is to stay indoors in order to see a gleam of normalcy for us.
During this time, we felt saddened by the situation as we now had to head back to the drawing board to figure out ways to keep the momentum of our business flowing like how it was pre-MCO. We began digging deep into what our core mission was about and why we started this in the first place and were reminded of our logo and the meaning behind it.
Serviced Office KL: Growth Rings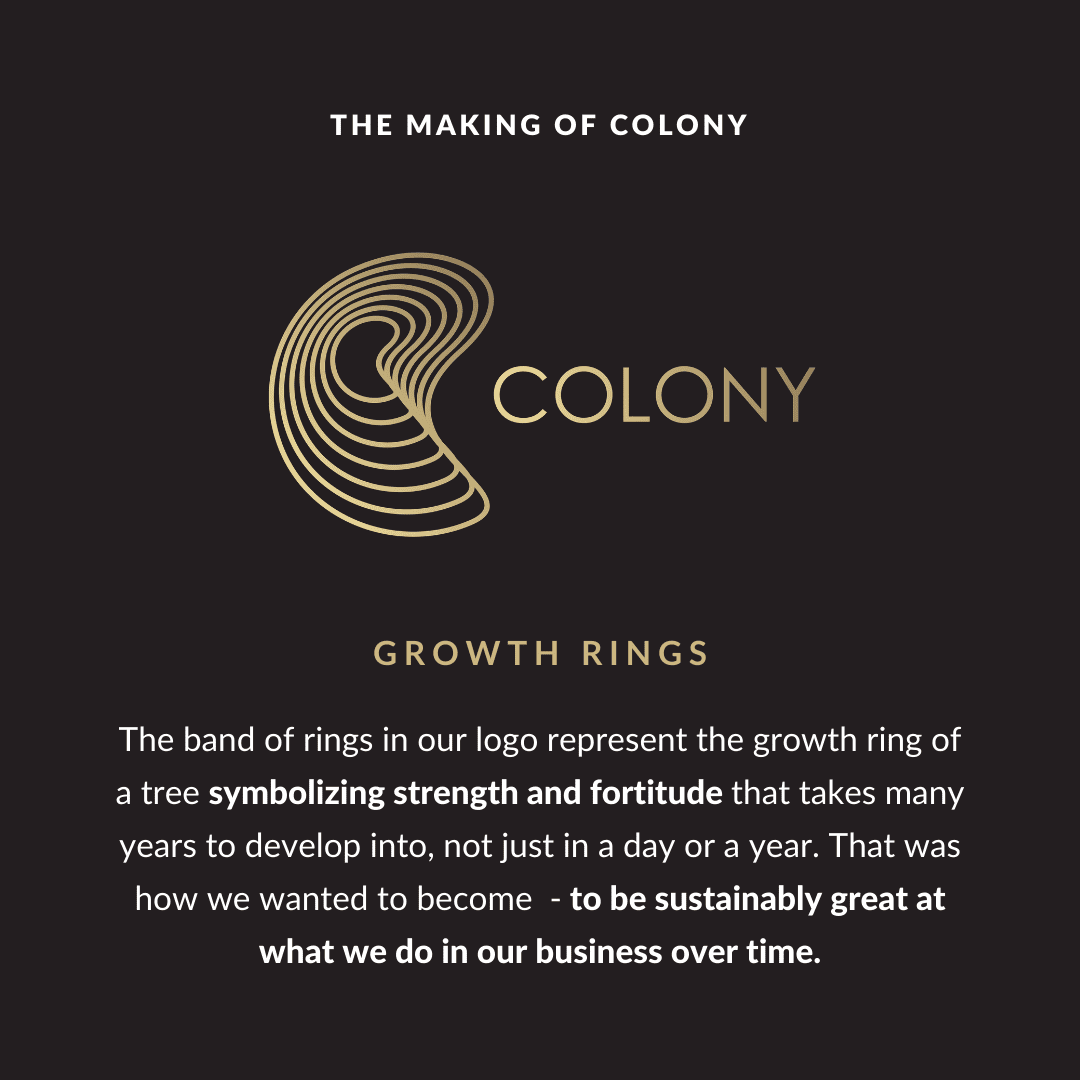 The band of rings in our logo represents the growth ring of a tree symbolizing strength and fortitude that takes many years to develop into, not just in a day or a year. That was how we wanted to become  – to be sustainably great at what we do in our business over time. 
Much like how each ring is uniquely its own and there will never be two years exactly alike, we don't hold control of all outcomes no matter how much we plan or do. What we can do is trust the growth that we've built and let it teach us to improve.
To all of us having it rough right now, we hope our story reaches you as a reminder that in order to seek growth we need to strengthen our roots and feed on new experiences, opportunities and people to add more years to our story. While the calamity of this year was unplanned, let us take this as a pivotal lesson to help nurture and grow our story for whatever it may be – business, life, relationships or people.
Serviced Office KL: End Note 
Colony Coworking Space – Where Work Meets Sophistication
If you're looking  to embark on a meaningful Serviced Office KL environment without putting a hole in your balance sheet, check out our Business Encouragement Initiative that is designed for businesses looking for an easy and stable workspace solution or contact us via email at ask@colony.work or +60 18-213 8086 for more details on how we can transform your work environment into a stunning yet productive one.
RELATED SERVICED OFFICE KL ARTICLES:
Serviced Office KL: 9 Best Low-Maintenance Indoor Plants to Spruce up Your Office
Serviced Office KL: Tips for Managing Teams Effectively During a Pandemic