Coworking Space KL: Colony Connects – Business in Time of
COVID-19 with Carsome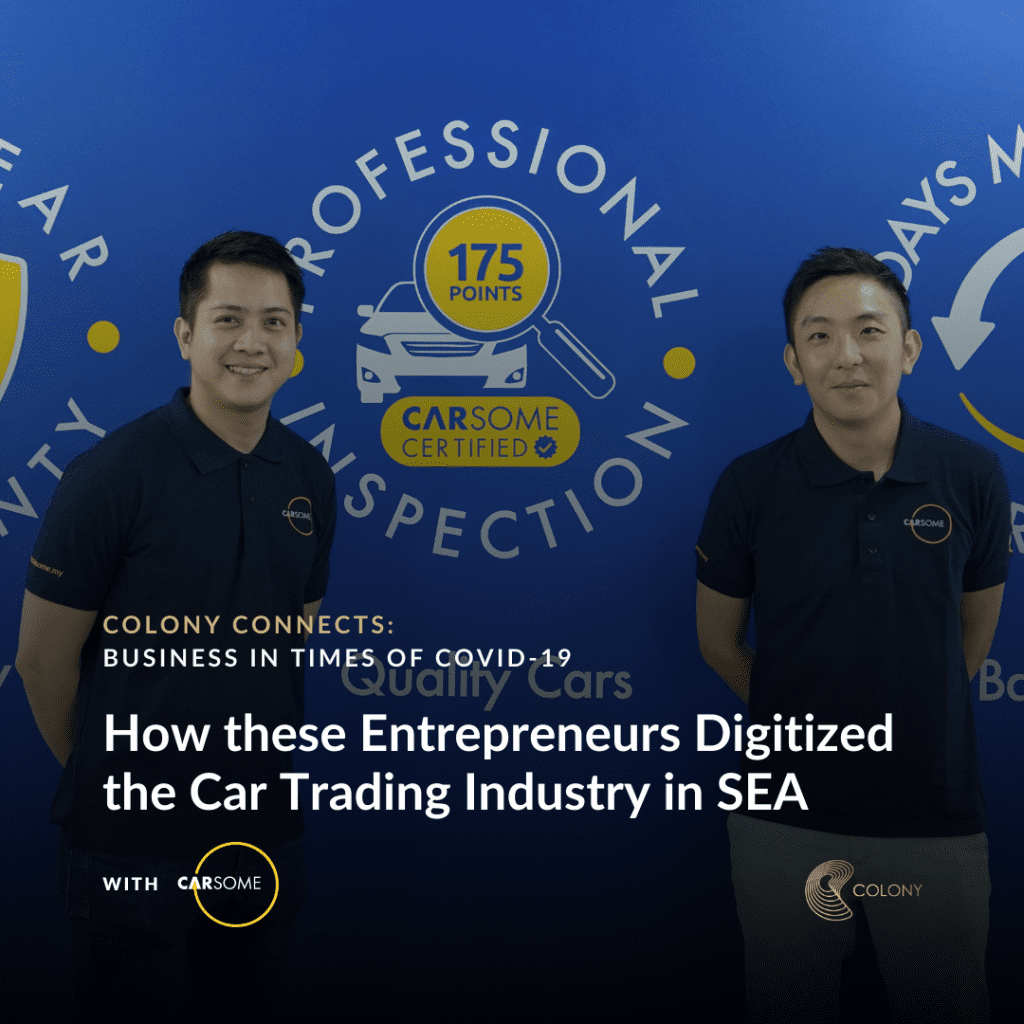 For a long time, the car-trading industry weathered many challenges in delivering trust and authenticity to the public eye. Recognizing these pain points in the industry, this led  Eric Cheng in co-founding  Carsome Malaysia, along with partner and now Chief Business Development Officer, Teoh Jiun Ee in setting up operations in Malaysia in 2015 with a mission towards changing the consumers' perception of the car-trading industry. Fast forward to today, Carsome is now operating in major hub cities such as Singapore, Indonesia and Thailand – making them the largest online used car trading platform in Southeast Asia.

On the second episode of Colony Connects, we had the opportunity to have a virtual chat with Carsome Malaysia on how they started helping people with car purchasing to focus on selling cars to the public fast and efficiently and sharing how the past few months have been like for them. 
Coworking Space KL #Q1:

How was Carsome originated, what was the idea behind it?
A: A few years back, the used car market was fragmented and marred by consumer's distrust towards used car dealers due to the lack of transparency. This led to Eric Cheng and Teoh Jiun Ee establishing.
Carsome in 2015 to solve the pain points of the industry through digitalizing and standardizing the entire car-selling process from car inspection to ownership transfer and fast payment – providing customers with a hassle-free experience.
Coworking Space KL #Q2:

As one of the innovative players in the industry, what was the biggest challenge you faced during the pandemic?
A: When the lockdown was initiated, all business activities in the countries we operated were put to halt.
During this period of uncertainty, we shifted our focus on fine-tuning our business, upgrading the backend infrastructure of our bidding platform and upskilling our workforce through various training as everyone was working from home. As a result, we achieved a V-shape recovery in July, two months after we resumed our business during the CMCO back in May.
In August, a new car-buying initiative was born – "The New Way of Buying Cars", which allowed consumers to browse through detailed information of used cars on our platform and gaining access to our Carsome Promise package that comes with a one-year warranty, a Carsome Certified car and a 5-day money-back guarantee.
Coworking Space KL #Q3: If given a chance to talk with your customers, what would you want them to know? 
A: We would like to express our sincerest gratitude to all our customers for their support. We are committed to continuously enhancing our platform and services to ensure that you enjoy the best experience with Carsome – be it selling your car in the fastest and most convenient manner (and being paid an hour after everything is completed), or confidently buying a Carsome Certified* car that comes with a one-year warranty and a 5-day money-back guarantee.
** All Carsome Certified cars passed Carsome's stringent 175-point inspection, have not been in major accidents and do not have structural or flood damage.
Coworking Space KL #Q4: What advices would you give to other businesses out there?
A: When faced with difficulties or uncertainties, it is important for businesses to make fact-driven decisions, trust your team and prioritize your company stakeholders.
Employees are a company's greatest asset so it is important to look after their well-being, especially during times of uncertainty. We should routinely communicate with employees about the company's directions and strategies to ensure everyone is working towards achieving the same goals.
About Carsome
Carsome is Southeast Asia's largest online used car trading platform with presence in Malaysia, Indonesia, Thailand and Singapore. It aims to digitalize the region's used car industry by reshaping and elevating the car buying and selling experience. Carsome provides end-to-end solutions to consumers and used car dealers, from car inspection, ownership transfer to financing, promising a service that is trusted, convenient and fast. Carsome currently transacts more than 40,000 cars annually totalling more than US$600 million in transacted value.
Whether you are looking to buy a second-hand car or sell your used car, do check out Carsome 's website or Instagram page for more information.
Related Coworking Space KL Articles:
Coworking Space KL: Business in Time of COVID-19 with JP Associates | Has Covid-19 affected the Recruitment Industry in Malaysia
Coworking Space KL: Tips to Stay Safe at Work during COVID-19 
Coworking Space KL:  5 Useful Ways to Stay Productive at Work After COVID-19