Joining yet another video call doesn't feel like a special occasion anymore. With most employees continuing to work from home, companies are pushed to think beyond the traditional arrangements for holiday parties or sourcing event space kl that used to be important events conducted physically.
Evidently, the global health crisis has been one of the toughest and disconnected experiences that we've ever experienced. Which makes it why having a sense of belonging in your work environment is seen to increase an employee's job performance by 56% .
With the importance of a sense of belonging in view, team leaders are challenged with creating fun and engaging programs for their employees' time and participation, virtually and especially during the holiday season to reconnect and convene for the new year. Here are a few tips and guides on how to make your virtual holiday party interactive that will surely bring your team together and essentially end the year out on a high note!
Event Space KL Tip #1: Bring the party over
Not literally though, and we all know why. Just because a party is virtual does not mean that everyone can make it, but don't let it stop you from sending the merriment to your virtual guests. What you can do is order food through delivery services such as Grabfood or Foodpanda that will arrive at the same time to keep your party inclusive. You might also want to consider sending decorations or holiday mementos to your team ahead of time. 
Event Space KL Tip #2: Hold a costume contest
Help your team members get into the holiday spirit with an interactive and creative costume contest! Challenge them to join the party with attires that fit well into the theme of the party – our favourite has got to be the ugly sweater concept because it's simple and puts everyone in a cheery mood. Want to spice things up further? Reward the most impressive participants with prizes or gift vouchers. 
Event Space KL Tip #3: Have a virtual watch party
Like the idea of watching a festive movie with a group of friends? Why not have a watch party with your team virtually using platforms like Netflix Watch Party or simply just share your screen and audio! Give out a poll beforehand so everyone can vote for a hearty movie they'd like to watch with their teammates. 
Event Space KL Tip #4: Drinking games and trivia 
What is a holiday party without some a lil booze? Send your team a nice bottle of wine or spirits to their homes to toast the occasion together from afar. Jazz things up with games such as Charades, Bingo or even Scavenger hunting in the comfort of their own home. On top of that, customise your own trivia for the team on company facts or even inside jokes to keep going. 
Event Space KL Tip #5: Gift exchange
Consider sending all employees a present from the company to demonstrate your gratitude for their contributions. Better still, use an online generator to have everyone participate in gift exchange! Ask all participants to mail their wrapped gift to their recipient one week before the holiday party and consider covering the cost of postage for the gift exchange, if possible. Make sure to ask your team members to only open their gifts during the party. 
Now you're ready to throw the best virtual party! Give your team members the human connection we all crave with a virtual party right from the comfort of their own. Make sure to maintain routing celebrations and lift group morale with a good time. Be creative with your agenda and take suggestions from everyone seriously to cater to the majority, even if it isn't your personal preference.
Event Space KL: Celebrate the year with us!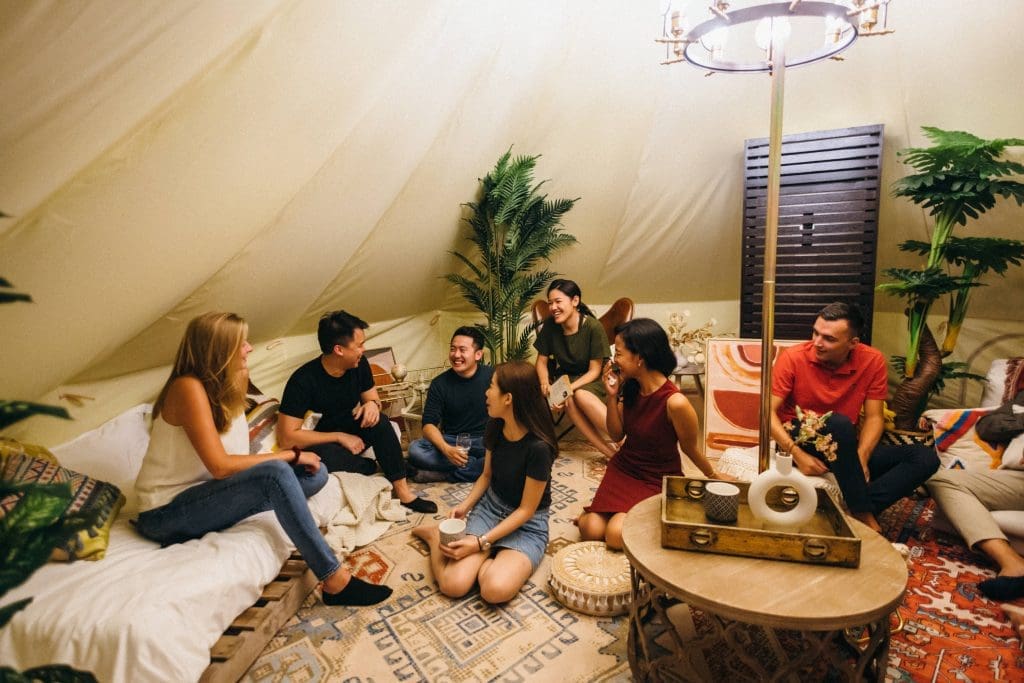 Still wanting to have a  physical yet safe and intimate gathering with those that helped make 2020 better? Indulge in the last bit of the year and treat yourself and your loved ones to a safe and intimate glamping experience with Castra by Colony and enjoy 50% off on all stays until 31st December 2020!

For information about Castra, you may make your reservation with us or contact us via email at ask@colony.work or +60 18-213 8086 for any event space KL inquiries – our wanderlust specialists will fulfill your travel desire when you #WanderwithCastra!
Related Event Space KL Articles
Event Space KL: Functional and Unique Door Gift Ideas For Your Events
Event Space KL: Why Hybrid Events are Relevant in the Era of Covid-19
Event Space KL: 4 Yeses On Why You Need an Event Planner For Your Corporate Events