Countries around the world are stepping up efforts to tackle the new coronavirus that originated in China's Wuhan city, Malaysia included. In order to ensure everyone's safety here at Colony, Coworking Space KL, we have started a precautionary initiative across all Colony centres.
As a coworking space, guests often travel to-and-fro internationally. With this, we have taken precautionary measures and increased the frequency of cleaning and sanitizing around the centre. Guests can also easily access sanitizer dispensers and sanitizer wipes at all concierge and common areas.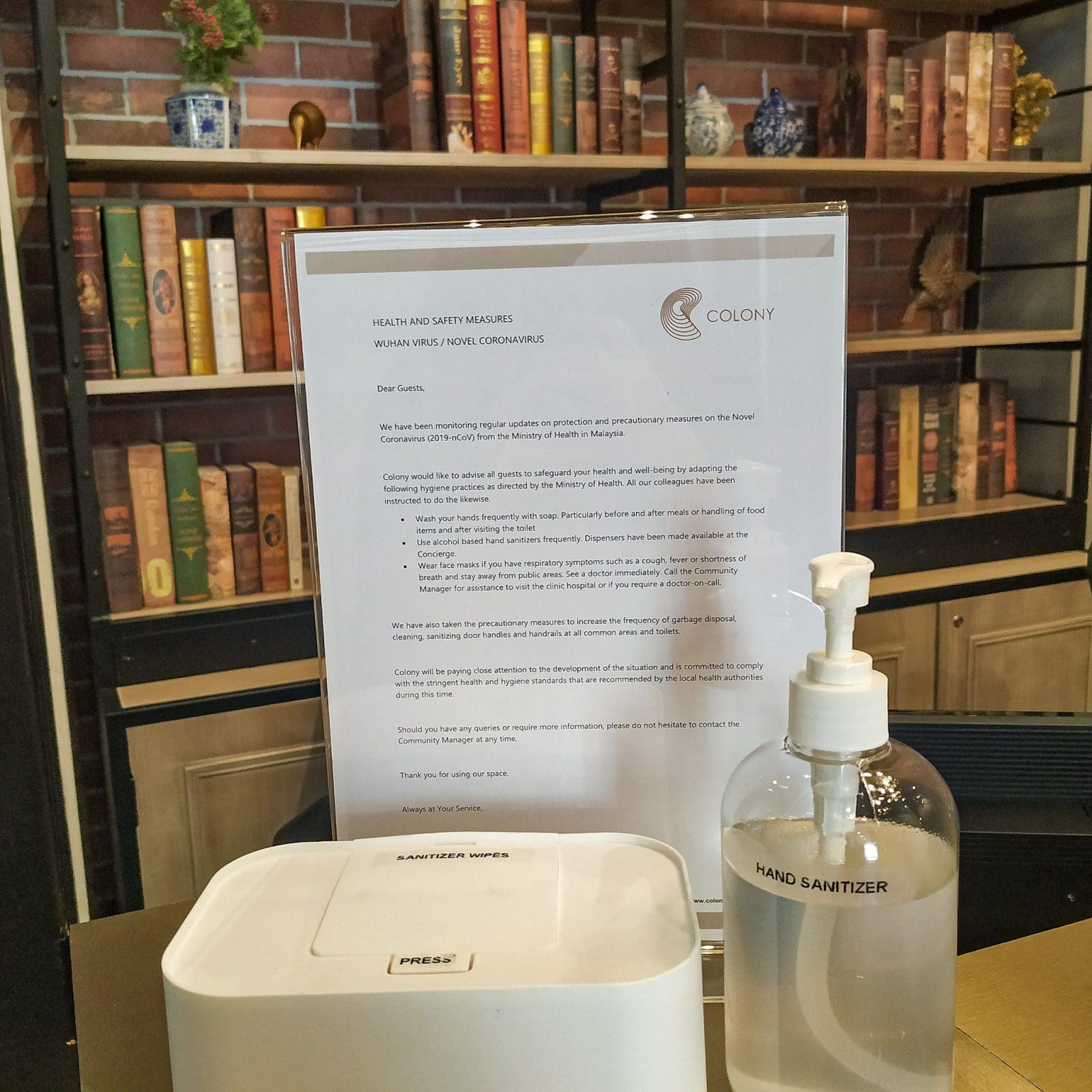 Be the change you wish to see in the world. 
We would like to advise all guests to safeguard their health and well-being by adopting hygiene practices such as wearing a face mask if you have any respiratory symptoms like cough and so on. 
Coworking Space KL: Preparing the hand sanitizers kit for our travelling guests
On top of the shared sanitizer facility, as we anticipate hand sanitizer and face masks to be quite scarce and out-of-supply in other countries,  we are also giving out alcohol-based hand sanitizers for guests travelling to make sure they're well-equipped to fight the virus. 
Coworking Space KL: What is Coronavirus and How to avoid infection?
According to The World Health Organisation (WHO), coronaviruses (CoV) are a large family of viruses that cause illness ranging from the common cold to more severe diseases. WHO which recently declared the virus an international public health emergency – has issued a list of preventative measures, including a recommendation for people to clean their hands with an alcohol-based hand rub, commonly known as hand sanitizer. 
Hand sanitizers are currently out of stock across all retail stops due to the panic-driven buying by the 2019-nCoV outbreak. We were lucky to be able to get the hand sanitizers in time for our travelling guests as their health and safety is one of our big concerns.  
Find out more information about our coworking space KL here.
Related Coworking Space KL Articles: 
Coworking Space KL: Closing The Deal
Coworking Space KL: The Break Up Kit