The Creative Themes of Colony Coworking Space KL
The coworking trend today has inspired many different styles when it comes to building inspiring workplaces with a unique environment. This has inadvertently influenced the future design of workspaces. A crucial element in making a great coworking space KL especially lies in balancing the beautiful architectural aspects of the space while catering to the needs and standards of the occupants. 
Which theme best fits your coworking style?
With hospitality being a strong emphasis to us at Colony, our team came out with different concepts at all our five coworking spaces, with each one of them spanning a unique theme to elevate the coworking experience with the comfort of our guests in mind. 
Colony Coworking Space KL, Star Boulevard
A stunning 35, 000 square feet space featuring a two-storey high lofty ceiling and a lush rooftop garden set against the sublime backdrop of Petronas twin towers, Colony Star Boulevard is a New York Tribeca-themed coworking space KL in the heart of Kuala Lumpur. A mix of vintage and antique furniture with elegance in design effortlessly brings a low key vibe that best defines the landscape of Tribeca.
As the largest luxury coworking space KL in Malaysia, this colossal flagship showcases the best of Colony – a commitment to provide our signature hospitality experience to all guests who walk through our doors.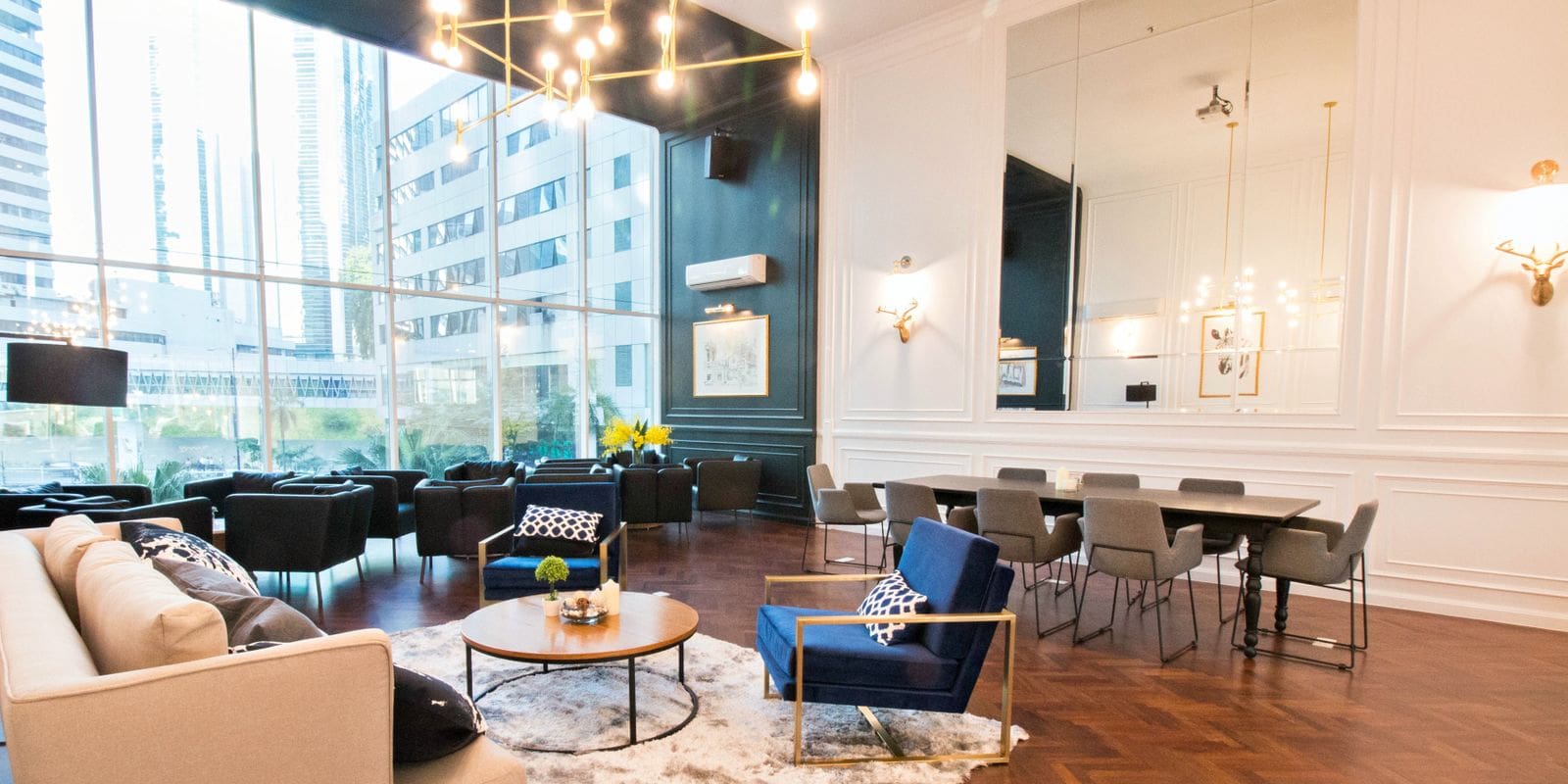 Colony Coworking Space KL, KLCC
This 19, 000 square feet workspace is designed with the theme of a Gentleman's Club. Spanning 50 private offices on 2 levels, this opulent space also comes well-equipped with a homey bean bag area, nap pods and massage rooms for guests to sneak in a quick moment of relaxation during the day. As Colony's first coworking space KL, this space is located at Vipod Residence KLCC.
Colony Coworking Space KL, Eco City
Inspired by the era of the British Colonial, this coworking space KL spanning 20, 000 square feet features soft white canopies, comfortable teak wood sofas, and rich dark brown shutters to create tonal variation. Verdant hints of green aims to bring the outdoors indoors, making the space pleasing to the eyes once you enter the space.
This 5-storey coworking space KL has about 95% occupancy. With high demand and anticipation, Colony Eco City will be expanding to new floors by mid-2020 with a whole new twist to the theme.
Colony Coworking Space KL, KL Sentral
Hidden in-between corporate offices in Q Sentral building, this 17, 000 square feet coworking space KL inspired by the Parisian Apartment is Colony's third location. Upon entering, you will be welcomed by a stunning marble fireplace, and wrought iron chandeliers thoughtfully put together to create a classical elegance French touch. 
Catering more towards corporate companies, this centre provides guests with a more business-like environment without making you feel like you are in a traditional office space.
Colony Coworking Space KL, Mutiara Damansara 
Stepping foot into this 22, 000 square feet space is a Wes Anderson-inspired coworking space KL, where bubblegum hues meets the magic of the whimsical movie theme, recreating the atmosphere in Wes Anderson's aesthetic films.
Colony Mutiara Damansara consists of 2 floors, where our main occupants are Malaysia's largest snack companies, Mamee and Southeast Asia's largest online used-car auction platform, Carsome. As our most popular outlet, this space is booked out at 96% occupancy.
Book a coworking space KL now!
BOOK A TOUR HERE IF YOU WOULD LIKE TO HAVE YOUR OWN PRIVATE VIEWING OF OUR COWORKING SPACE KL.
RELATED COWORKING SPACE KL ARTICLES
Hot Desks Or Private Offices In Coworking Space In KL: Which Is Suitable For You?
Why Did Our Previous Guest Come Back To Our Coworking Space
We've Been Listed As One Of The Best Coworking Space KL In Sea