Planning for a wedding such as choosing the right food caterers, photographers, or even choosing your desirable wedding venue KL can be time-consuming, stressful and tiring. If not planned properly, it can quickly turn into a chaotic mess which can be detrimental for you, your spouse, and your guests.
Fret not, in collaboration with our partners and with our biggest and most luxurious event space KL at Star Boulevard KLCC. We will make sure that you will have the best wedding of your lifetime.
Unless of course, you're remarrying, then we will give you the next best wedding of your lifetime.
Here is how we can help you host your perfect wedding at our wedding venue KL.
Our Partners For Our Wedding Venue KL
From conceptualisation to execution, our partners are with you every of the way. We've partnered up with some of the best in Malaysia:
Decor & Details: Pathway, Whichkraft, Soiree Lab
Photobooth: Wonderbooth
Bridal furniture: VC Entertainment 
Pastries: Patisserie Rui
Caterer: Define:Food
Photographer:  Stories.my, Trees On The Moon
Makeup Artist: MM Production
Bridal Gowns: Armadale, Lola Gowns
Men Suits: Topman
Bridal Shoes: The White Atelier
Wedding Venue KL Floor Plan
Our main event space hall features over 3,500 sq. ft of space. Guests will be welcomed with a generous two-storey high ceiling space. The hall is capable of at least 200 people for a cocktail party and 150 for a seated event.
At the top floor sits the 12,000 sq ft iconic rooftop garden with lush greenery against the backdrop of the Petronas Twin Towers. The space is capable of fitting 50 people per rooftop.
Here is the layout of our wedding venue KL: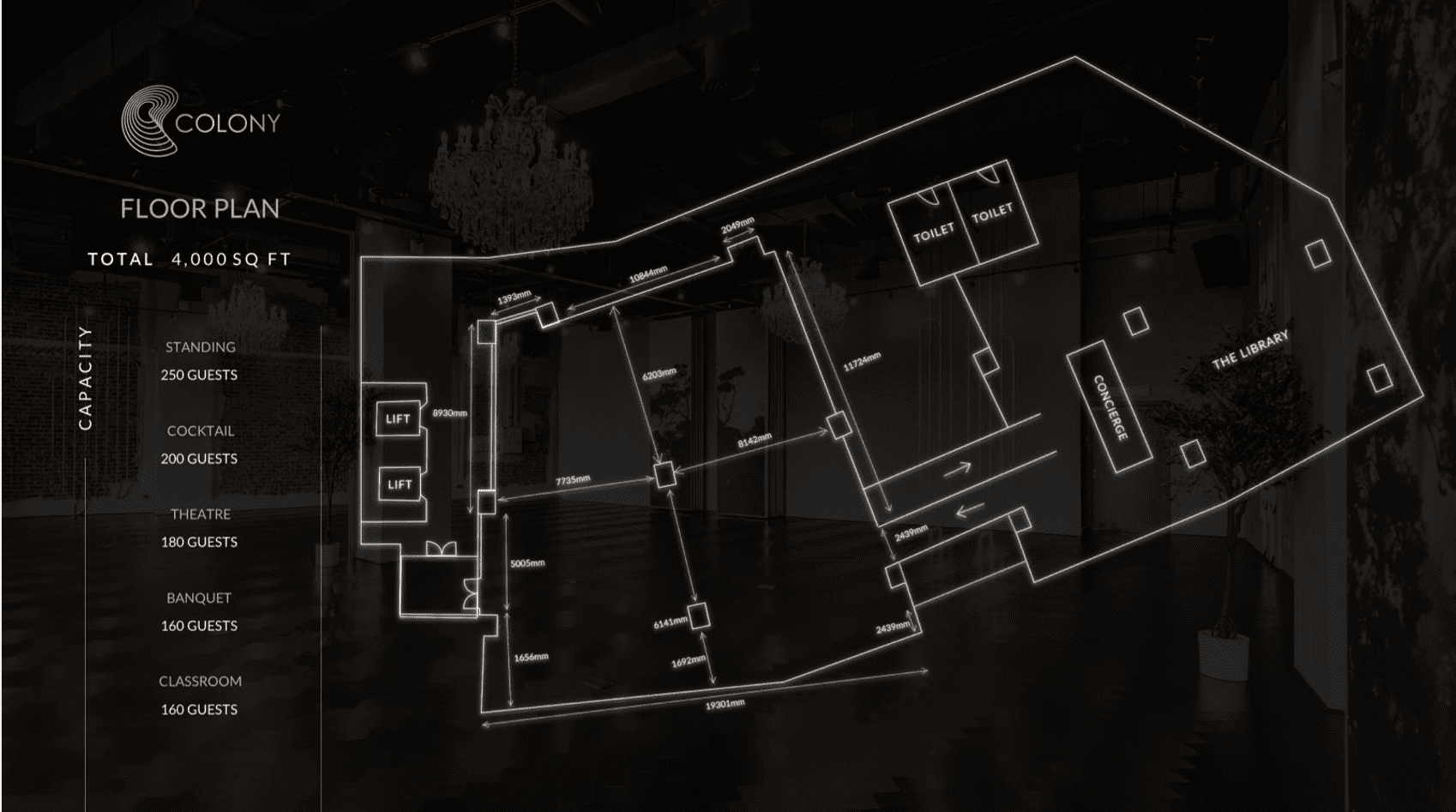 Wedding Venue KL Facilities
Here at Colony, rest assured that we will provide you with the best facilities for your wedding:
High-speed Wifi With Customisable SSID

 Drop-down Projector Screen & Projector

 Built-in AV Systems

 4x Wireless Microphones

 Portable Stage

 Complimentary Air-conditioning

Dedicated Community Manager

 Lactation Room & Kids Play Room Available

 Full-Day & Half-Day Packages Available

 Complimentary Usage Of Food Prep Area

 Ample Parking Space Available

 Bridal Suite Available
Book a private tour now for our wedding venue KL!
Planning on hosting a wedding?
Do reach out to us at this wedding venue KL webpage for a private tour or contact us directly either at +6012 213 8086 or ask@colony.work!
Other Related Wedding Venue KL Articles:
Choosing the Right Wedding Venue For Your Wedding
Kuala Lumpur's Latest Wedding Venue at Star Boulevard