Colony Coworking Space Introduces a New Coworking Benefit
New Coworking Benefit: Free GrabPay Credits to Cover Lunch and Transportation
Colony Coworking Space is rolling out complimentary GrabPay Credits to aid your monthly expenses when you purchase a Hot Desk Plan with a duration of 12 months, 6 months or 3 months!
Why We Do This?
We believe that hospitality towards our guests should be practised both in and out of the workplace. It's our top priority for the Colony team for each and every guest to enjoy a first-class experience. Hence, in celebration of our 2nd Anniversary, the team has come up with an all-encompassing benefit that could relate to the needs of everyone, and that is taking care of your monthly expenses!
Why GrabPay Credits? 
Colony Coworking Space chose GrabPay credits as a benefit for guests because GrabPay credits can be used for work-essential needs, such as Grab Rides, Grab Food Delivery, Food and Beverages, Hotel bookings and any merchants that allows GrabPay Credit as payment. You could also quickly request and transfer money to family and friends. Hence, it provides flexibility and convenience to our guests!
Everything you need to know: Hot Desk + Free Grabpay Credits Plan
What is a Hot Desk? 
Hot Desk is a space in an open common area for you to work, and it gives you the flexibility to work at different spaces to activate your creative brain juice in our coworking space.   
How does it work? 
Buy Now, Start Later to secure your seats. Purchase your desired monthly plan and indicate your preferred start date before purchasing. You have a choice of 12 months, 6 months of 3 months Hot Desk Plans. 
What is this Promotion about? 
Ongoing for only 2 weeks, when you purchased a Hot Desk Plan at Colony Coworking Space, FREE GrabPay credits will be given to you every month. The value of GrabPay is based according to the Hot Desk Plan you have subscribed:
Sign up for a Hot Desk at only RM499/Month and get FREE: 
RM250 Monthly GrabPay Credits for 12 Months Hot Desk Membership (Instalments available) 
RM200 Monthly Grabpay Credits for 6 Months Hot Desk Membership
RM150 Monthly Grabpay Credits for 3 Months Hot Desk Membership
What is included in your plan?
You are entitled to access all Colony Coworking Space excluding Colony @ Mutiara Damansara and accessible to all common area from 9am to 530pm, Monday – Friday. Use of unlimited high-speed Wi-Fi, concierge services, access to community events and enjoy exclusive Colony Privileges with selected partners.
1-Day Refund Promise
If you're unsatisfied with your purchase of our services, Colony Coworking Space will refund the full payment received from you for this purchase within 1 day from your selected start date. 
Referral Benefits 
Within this promotion week, when you purchase your Hot Desk Membership, you will receive your very own unique code to be a referral. If you manage to successfully refer a friend to buy any Hot Desk Plan in Colony Coworking Space, an additional RM50 GrabPay Credits will be given to YOU AND YOUR FRIEND! 
How to Activate your Hot Desk Plan? 
To activate your hot desk plan, bring your Receipt or Confirmation Email and check-in at the concierge at any Colony Coworking Space locations. 
How to Redeem your Monthly GrabPay Credits? 
To redeem your monthly GrabPay Credits, drop by on the 5th of every month and GrabPay credits will be transferred manually by the concierge to your Grab account. Mobile Number linked to your GrabPay account must be validated. Once activated, every 5th of the month, credits will be transferred to the GrabPay account provided by you.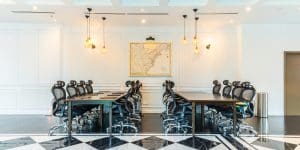 What are GrabPay Credits?
It is a flexible e-wallet that works like cash, available to use nationwide. 
What do you use GrabPay Credits for? 
It can be used for GrabRides, GrabFood delivery, Food & beverages, hotel bookings and any merchant that allows GrabPay credits. Money could also be easily transferred and request from friends and family.  
Availability of Hot Desk Plan
This promotion would only go on until the 18th Sept, limited to only the first lucky 50 guests. 
Terms and conditions apply.*
It's down to less than one week, urging to secure your seat? Click here. Feel free to book a private viewing tour around our Coworking Space before your desired start date, here.