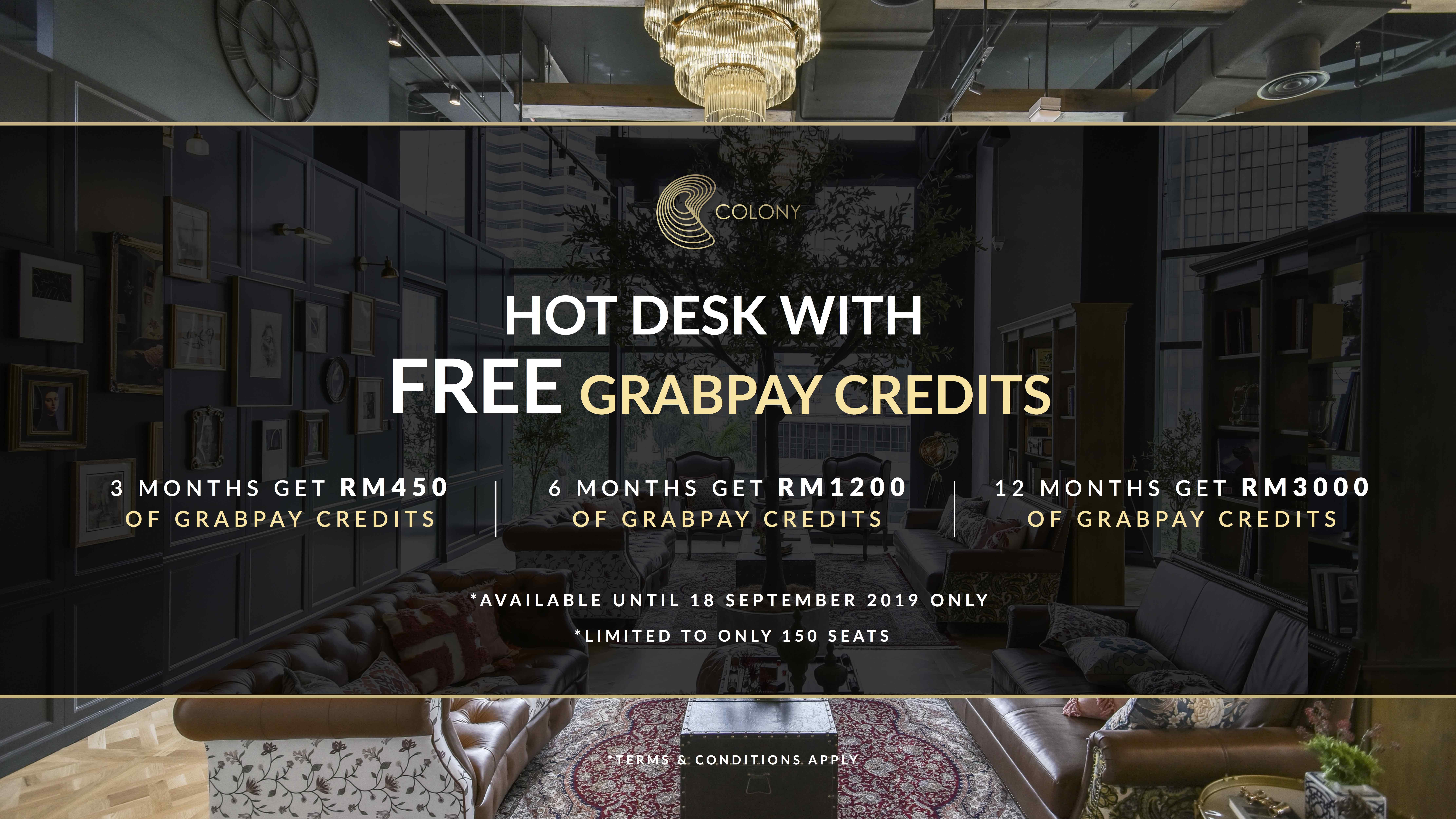 TERMS & CONDITIONS
By purchasing the Hot Desk with Free GrabPay Credits plan, you are agreeing to these terms and conditions:
1. GENERAL
1.1 This limited-time promotion is available from 4th September 2019 to 18 September 2019 only.
1.2 By purchasing the Hot Desk with Free GrabPay Credits plan, you are agreeing to our service agreement terms and conditions.
1.3 All sales are final, and are non-transferable and non-refundable unless otherwise noted.
1.4 The Hot Desk with Free GrabPay Credits plan is only available to be purchased online and be paid in full upon purchase, monthly payment can be arranged on a case-by-case basis.
1.5 Hot Desk is subject to availability in the locations at any particular time.
2. GRABPAY CREDITS
2.1 This promotion is not in collaboration with Grab formally known as MYTEKSI SDN BHD (Company No. 953755-D).*
2.2 Colony will transfer the monthly GrabPay Credits or cash equivalent to the registered number linked to the GrabPay account provided by the purchaser on the 5th of every month.
2.3 The amount of GrabPay Credits transferred is based on the respective plan purchased by the purchaser.
2.4 GrabPay Credits are not exchangeable for cash.
3. 1-DAY REFUND PROMISE
3.1 If in any case, the purchasers are unhappy with the purchase or service provided by Colony, purchasers are entitled to a 1-Day Refund Promise from the start date selected by purchaser during purchase, in which Colony shall refund the full payment received from this purchase.
3.2 Colony has the sole discretion to decide if the reason for refund is deemed acceptable.
3.3 Non-refundable once GrabPay Credits have been credited into your account.
4. REFERRAL PROGRAM
4.1 Referrer in this case refers to a purchaser who sends or directs someone with Colony's unique referral code for purchase consideration.
4.2 Referee refers to a person who is not an existing guest or member of Colony and whom the referrer has referred.
4.3 For every successfully enrolled referral, both referrers and referees are eligible to receive a one-time RM50 GrabPay Credits reward. Referrers are able to accumulate their rewards on multiple successfully enrolled referrals. Eg. with 3 successfully enrolled referral, the referrer will receive a one-time RM150 GrabPay Credits reward.
4.4 Referee must validate the enquiry by utilizing the unique referral code given by Colony to referrer upon check out. The unique referral code can be used for multiple referrals.
4.5 Referee must opt for the Hot Desk with Free GrabPay Credits plan.
4.6 For referee who opts for a private office or reserved desk package, the referrers are entitled to participate in the 3rd Party Referral Scheme.
4.7 Both referrers and referees are only eligible to claim their rewards once the referred client has purchased the product and paid in full.
4.8 To qualify for rewards, the referral must result in the receipt, by Colony Space Eco Sdn. Bhd.
4.9 Referrals cannot be for a sister company or a colleague working for Colony Space Eco Sdn. Bhd.
4.10 In the event of multiple clients referring the same contact/company, only the referral purchased via the respective referrer's unique code will be deemed applicable.
4.11 Colony Space Eco Sdn. Bhd. reserves the right to amend or withdraw this offer at any time.
4.12 The referral program is a non-tax paid program. Individuals and participating resellers are responsible for declaring any prizes to their local tax authority if required and paying any tax liability arising from receipt of any prizes.
5. Personal Data Protection Policy
5.1 Pursuant to the Personal Data Protection Act 2010 ("PDPA"), Colony Space Asia Sdn. Bhd. ("Colony") is committed to the protection of your personal information and your privacy. Colony will not sell, rent, transfer or disclose any of your Personal Data to any third party without your consent. However, we may disclose your certain Personal Data to the following parties only for specific and limited purposes:
a. Other entities within Colony's Group;
b. Any party in relation to legal proceedings or prospective legal proceedings;
c. Third party service providers of Colony's Group;
d. Our auditors, consultants, lawyers, accountants or other financial or professional advisers appointed in connection with our business on a strictly confidential basis, appointed by us to provide services to us;
e. Payment channels including but not limited to financial institutions for purpose of assessing, verifying, effectuating and facilitating payment of any amount due to us in connection with your purchase of our products and/or services;
f. Government agencies, law enforcement agencies, courts, tribunals, regulatory bodies, industry regulators, ministries, and/or statutory agencies or bodies, offices or municipality in any jurisdiction, if required or authorised to do so, to satisfy any applicable law, regulation, order or judgment of a court or tribunal or queries from the relevant authorities;
g. Financial institutions, merchants and credit card organisations in connection with your commercial transactions with us.
5.2 Your Personal Data will never be shared with third parties for their marketing purposes.
5.3 You hereby acknowledge that such disclosure and transfer may occur and permit us to disclose and transfer your Personal Data to such third parties and its advisors/representatives and/or any other person reasonably requiring the same in order for us to operate and maintain our business or carry out the activities set out as above.