Planning for a wedding is no easy feat, as numerous steps need to be taken such as booking your wedding venue KL, picking your wedding style, inviting your guests, and so on. You will have to start crossing these steps off your checklist at least 12 months in advance.
Wedding Venue KL – First Things First, Pop the Question!
So, you've decided to finally kneel, take out that beautiful, inestimable sparkling ring and propose to the love of your life, and got "yes" as an answer. Congratulations! You're officially engaged!
This is merely the first out of maybe a gajillion steps that you'll have to take before getting to that one extraordinary day.
Here's a checklist from yours genuinely, Colony!
As with any list, this is merely a guideline, not a rulebook. Adjust the checklist to your preferences.
After all, it is your wedding.
Wedding Venue KL – 12 Months +
Set your wedding date. Have at most three different times to allow yourself some flexibility.
Set your budget. How much are you willing to pay for the entire wedding?
What style do you want your wedding to be?
Start exploring your ceremony and wedding venue KL options
Draft out your guests' list. Whom do you want to invite?
Start creating a list of the following:

designers (for your posters and wedding style)
planners (if you need one)
photographers
caterers
entertainments (if any such as musicians, dancers)

Plan your wedding party.
If you are not entirely sure which vendors to approach for your designers or planners, you may refer to our list of partners at this article.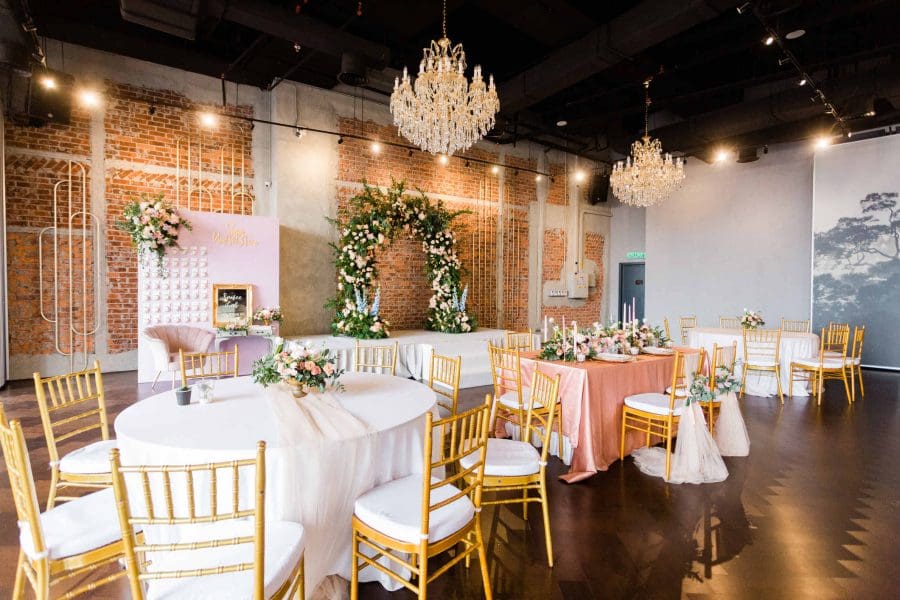 Wedding Venue KL – 8 – 11 months
Start reserving your ceremony and wedding venue KL
Book your officiant
Hire your planned vendors, e.g. photographers, caterers, designers, planners and musicians
If you want to look great, start establishing a healthy routine to get fit and look good.
Start looking at wedding gowns and suits
Refine your guests' list
Look at designs for your wedding invitations cards, thank you cards and stationaries
Wedding Venue KL – 6 – 7 months
Discuss and plan with your officiant
Begin reserving your decorations and furniture
Decide on cake style
Hire and book your entertainers
Begin sampling your wedding cards
Wedding Venue KL – 4 – 5 months
Finalise your guests' list
Reserve your wedding cake
Begin entertainment rehearsals
Wedding Venue KL – 2 – 3 months
Start writing your vows
Plan and finalise ceremony seatings
Review your ceremony with the officiant
Prepare your wedding day timeline for your guests and vendors
Order gifts for those attending the wedding
Send out your wedding invitations
Wedding Venue KL – 1 month
Confirm with your vendors on the details, e.g. dates, times and location
Prepare your wedding rings
Go for dress fittings
Wedding Venue KL – 1 – 2 weeks
Finalise RSVPs from guests
Let your caterer know the final headcount
Prepare payments to your vendors
Wedding Venue KL – One day before
Rehearse your wedding and lunch/dinner
Sleep early! It'll be a big day tomorrow
The Big Day
Enjoy and have a good time!
Give out your Thank You cards to your guests!
Wedding Venue KL – The day after
Ensure that all rented items have been returned
Ensure that all vendors have received their payments
For more information on the wedding venue or reserve for your fully-customizable wedding venue KL, feel free to contact us for more details or visit here!