Award Winning & Event Space at Colony Mutiara Damansara
We are truly honoured to announce that our fourth centre, Colony @ Mutiara Damansara won the Best Office Design Platinum Award at Atapdotco Design Award 2019. This is the second office design award won by Colony!
Our designer from Jarsche Design Studio also won a Rising Star Platinum Award, on top of the best office design! Making him the only interior design company to win 2 Platinum Awards in the same night!
Special thanks to Jarsche Design Studio, the main designer and Soiree Lab for touch up stylings. They have worked closely to put together this seamless design from the event space, coworking space, lounge, outdoor terrace, pantry to kids playroom in Mutiara Damansara.
Event Space at Colony @ Mutiara Damansara
Colony @ Mutiara Damansara is based on the theme, Wes Anderson. Wes Anderson is a well known American film director. The theme was inspired by The Grand Budapest, his signature style consists of overly symmetrical, colourful and quirky aesthetic.
Colony @ Mutiara Damansara offices and event space are decorated with pastel coloured sofas and furniture that suits the Wes Anderson theme.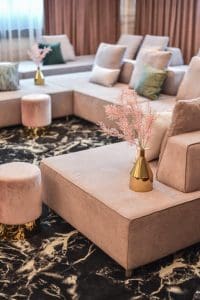 The event space in Colony @ Mutiara Damansara consist of 1250 sq ft, that can fit up to 50 guests and 60 guests standing. This event space consist of exotic eastern colourways in their furniture. We can customise our event space according to your requirements, from furniture to fixtures, it can be moved around to suit your perfect event space settings.
Every corner of our event space is "insta-worthy" and you will be greeted by a grand yellow glass facade looking through the concierge! The event space is gorgeously designed with candy floss coloured walls, blended in fern green and velvet pink finishings. Lastly, hint of gold accents were added for some luxury touch into our event space.
Book a tour
here
if you would like to have your own private viewing of our
event space
and coworking spaces.