Dead for ideas? Looking to glam up your wedding venue KL? 
As you inch closer and closer to your fairytale wedding, you are yet to prepare yourself for the perfect decorations to complement your dream wedding venue KL. From flipping through magazines to spending countless hours pinning your way through Pinterest- fret not, for Colony have you covered.
Flora for days
What better way to add life to your wedding venue KL than by bringing the outside in. Nature provides us with an eclectic array of colours and textures, so don't be afraid to experiment! Play with bright and beautiful colours by layering over a muted colour scheme or even a textured background to add more depth to your wedding venue KL.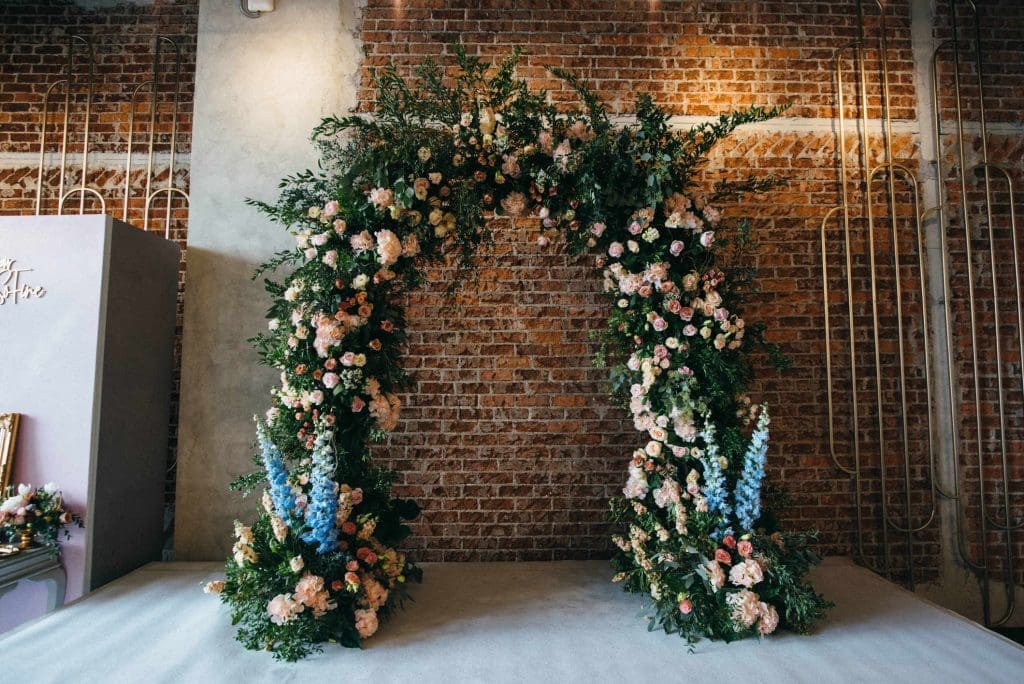 A stunningly designed statement floral arch provided by Pathway, Whichkraft, Soiree Lab who are Colony's partners. They can provide your wedding venue KL space with intricately crafted flower pieces.
A sure-fire way to draw eyes to your wedding venue KL tables can be done by placing a bouquet of flowers as a centrepiece. Match it with your tableware; glass plating can be an elegant complement without taking away the attention.
Elevate your wedding venue KL by hanging floral from the ceiling. By having them placed at varying height levels, this will accentuate the space by creating a room-wide effect.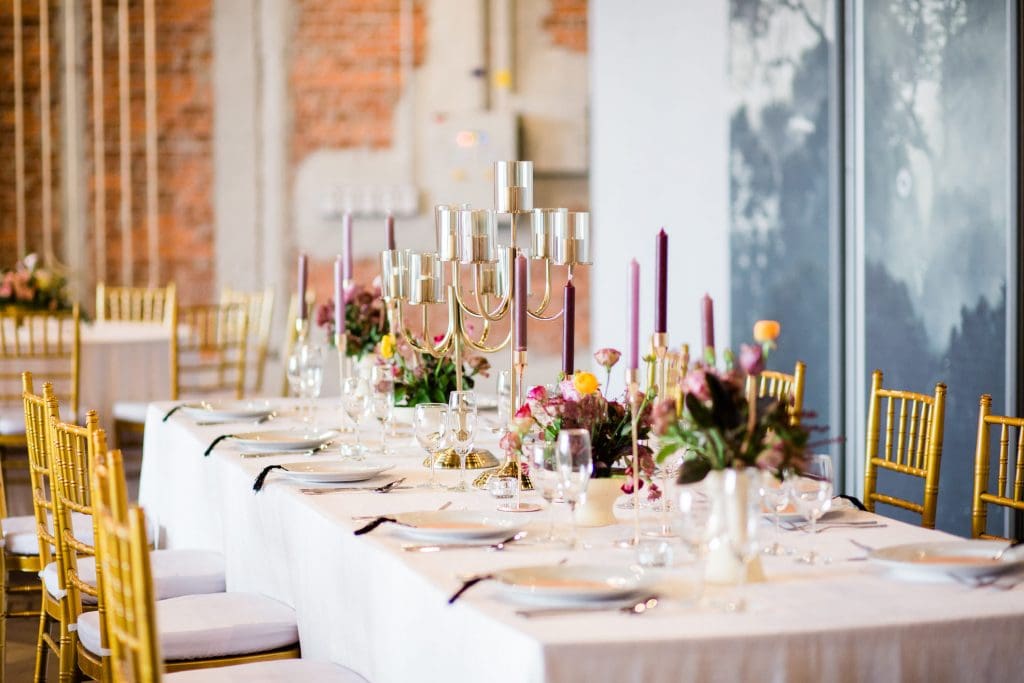 Chiavari for the class
Go ahead and name another piece of furniture that screams "classy" the way Chiavari chairs do. Light-coloured upholstery contrasted against lime-washed, stained or natural wood finishes can help to uplift any average looking seating.
How about adding personality to your chair? Small touches such as intertwining a bow and a bouquet of flowers can further enhance the "fairy tale" feel.
Narrate your story through photos 
How did you get to where you are now? Each and every one of us has our own story to tell, so why not share your romantic narrative through personalized photo displays. Many know of you and your partner from an outsider's perspective- so this is a simple yet sweet way of unfolding your journey! 
Keep it clean and simple by showcasing your photographs in a sleek, matted frame. Opt for more nude and soft tones to enhance the quality of your photos. 
If you're feeling fancy and are looking for something a little more extra, place your enlarged photographs on easels. Wanting something rustic but still rather classic? Opt for a wooden finish.
Lighting to set the mood 
Lighting in any space is an important key feature. Not only can it transform your space, but depending on the intensity level, it can also influence your emotions too. Don't just stick with your standard downlight, go all out and play with different fixtures- the bolder the better!
There is no better pair than a dreamy wedding venue and some captivating crystal chandeliers. As it illuminates its golden rays, this shining statement piece will truly set the mood, making it an unforgettable night.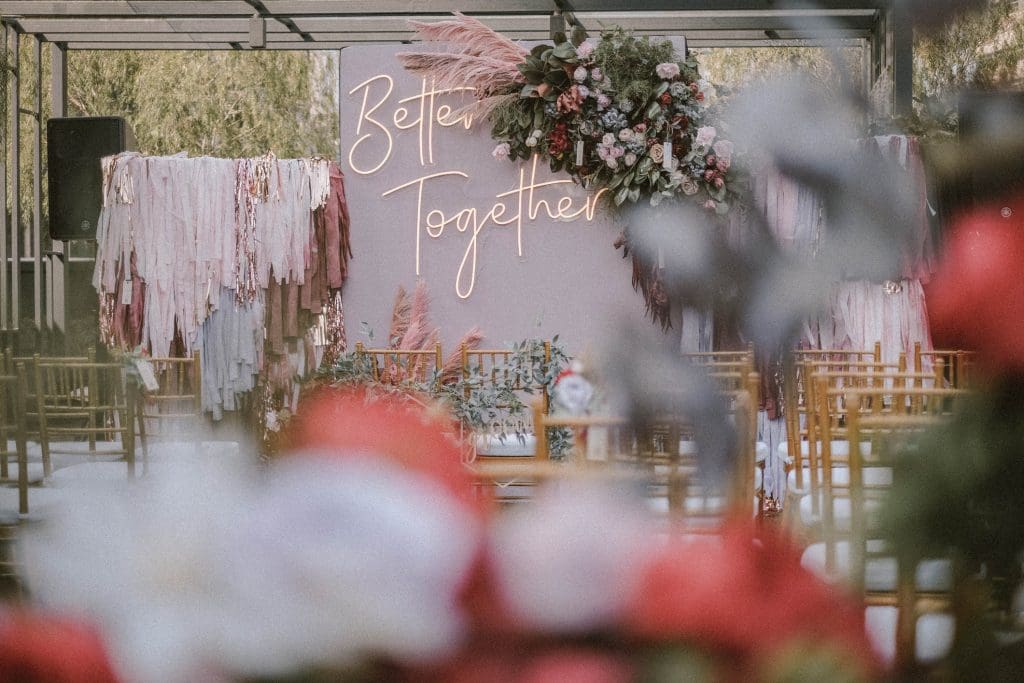 As seen in the eyes of many others, both red and pink hues are commonly used to express feelings of love and admiration. By integrating these cool and warm lighting tones into your wedding venue KL, it can help to set the perfect mood for your upcoming night of romance. 
Personalized signs to keep it "you"
Wondering what to fill your bare walls up with? Personalized signs are a great way to bring in a hint of quirkiness to your wedding venue KL. Keep it versatile by experimenting with different fonts and sizes to suit your theme. 
Incorporate your favourite quote into your backdrop to make your vow exchange extra special. Neon wire signages are a pleasant way to liven up the atmosphere- adding a touch of fun to your wedding venue KL.
Announce it to the world! Show off your marital status by adding that bit of "oomph" to your own seats. Place some gold contrasting background, it will surely stand out against the rest. 
For more information about the wedding venue KL or reserve for your fully customizable wedding venue KL, feel free to contact us for more details or visit here
Visit us for a private WEDDING VENUE KL viewing at our EVENT SPACE, click here for more details.
RELATED WEDDING VENUES KL ARTICLES
Down The Aisle Against Kuala Lumpur's Cityscapes At Colony's Wedding Venue KL
Transforming Our Event Space KL Into A Chic Wedding Venue KL For A Wedding Fair
How To Host Your Perfect Wedding With Colony